The Story of Rolling
What was started as an underground tradition of Jachnun Brunch for friends, turned into a quite successful weekly tradition, thanks to your feedbacks! The rolling & baking are mine, but your wonderful support and demand helped me grow and fund 'Jachnun Stories'.
 My story: I'm Jonathan, a hi-tech entrepreneur. In the past 6 years, I am leading a tech Start-up company, with amazing team & partners. On weekends, occasionally when I had rare moments of free time, I used to bake Jachnuns and invited over some friends for brunch, to enjoy this traditional weekends' meal with me. And then… while coronavirus has spread and slowed the business rhythm, I suddenly discovered more and more free slots on my calendar.
So, I made a decision, to skip another Netflix binge and started to dedicate my weekends to Jachnun rolls. I pulled out my Yemen Grandma's original Jachnun recipe, and my grandpa's secret pepper Shcug recipe (amazing!) and… started to roll. After years of friendly-sarcastic "what about my Jachnun" demands from my local community members, I finally made the time for a whole weekend of Jachnun bakes... and the following weekend, and then another… :)
I couldn't ask for better feedback and slowly slowly 'Jachnun Stories' was born. Delicious, authentic, handmade with love, with my phrase – 
simply enjoy it.
About Our Deliveries
We deliver our Jachnun Brunch to most areas of London (zones 1 to 5).
Deliveries are Saturdays & Sundays only, arriving between 8:30 to 11:30.
Orders for the weekend are open all week until 6PM the evening before.
Homemade Original Jachnun & Kubaneh
Jachnun Pots
Jachnun Pot 18cm

Jachnun Pot 20cm

Jachnun Pot 22cm
Especially for YOU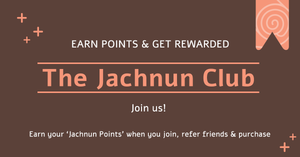 Let's be friends
Join The Jachnun Club and earn points for every order and referral. Look for the pink REWARDS button or join here:
Join the club
Gift Voucher
Treat someone special with a Digital Gift Voucher and invite them to join a traditional Israeli Jachnun Brunch.
explore gift vouchers